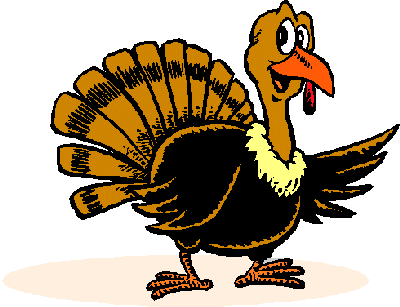 Today it's Thanksgiving in the US.
Thanksgiving brings back to me wanderful memories of evenings spent with good friends, great food, and lots of fun.
I approached my first Thanksgiving (it was year 2000, and I went to my friend Daniella's parents, in Brooklyn) with curiosity and enthusiasm. I could finally see in reality what I had known only through books and TV shows.

In 2003 I was asked to cook the bird. It was daunting, but it came out very well. I am still proud of that accomplishment.
This year, I wanted to start a little Thanksgiving tradition with my husband. We don't celebrate Thanksgiving in Italy, and I miss this chance to give thanks for whatever happened in the past months.
I wanted to have a small Thanksgiving dinner for the two of us, and even bought some turkey legs to roast.
Unfortunately, today husband has to go to work at 9:30 pm, and I'll come back home at 8:30 pm. So, no time for cooking or feasting.
But I will try anyway to make some time to give thanks, and the turkey will be cooked some other day.
It's not the food on the table that is important, it's the meaning of the day, I whink...
Happy Thanksgiving to everybody!